There is a lot of fantastic digital content surrounding the world of motorsport online, but sometimes it can be a little hard to discover. This is why we've put together this guide to show you some of our favourite shows on the internet.
Driven by Diversity
Driven by Diversity Podcast
The lack of representation of minority groups in motorsport is no secret – and they are here to do something about it.
Join hosts, Ariana and Steph, on the Driven by Diversity podcast as they champion a more diverse and inclusive sport by shining the spotlight on talent from underrepresented backgrounds in the world of racing.
Their guests share their insights, advice and personal experiences with the hope of inspiring and empowering the next generation to pursue a career in our industry.
Rabab Tantawy – McLaren Racing x Vuse livery artist
Today's guest in this special bonus episode is Rabab Tantawy, the Egyptian-born, Dubai-based artist behind the special one-off Vuse livery that both McLaren Racing F1 cars will be showcasing this weekend at the Yas Marina circuit. Ariana and Steph chat to her about her inspiration, her artwork and just how it feels to be the first person in the world to have their original artwork used on an F1 livery. You don't want to miss this!
Hit the links below to see more content from the Driven by Change campaign.
---
See acast.com/privacy for privacy and opt-out information.
Search Results placeholder
The British GT Fans Show
British Sportscar Podcast
The British GT Fans Show is the brainchild of Nick Smith, a time served journalist and photographer focused on the Intelligent Money British GT Championship.
It covers all aspects of the series, real world and digital in a magazine format.
Alongside Nick, Sara, their presenter and tame non-fanatic, appears regularly to discuss the latest news.
Trackside Sounds from Donington Park
10 minutes of audio recorded trackside during Free Practice 1 ahead of the 4th round of the Intelligent Money British GT Championship at Donington Park.
Search Results placeholder
H.Y.M. Podcast
The H.Y.M Podcast
Your local professional racers Jake Hughes, Nick Yelloly and Alex Murley talking all things motorsport, from 4 wheels to 2 wheels!
20: Pietro Fittipaldi – Haas F1, Indy's Fastest Rookie and Getting The F1 Call!
Fittipaldi's 🤝 H.Y.M, Love these boys and it was amazing to have Pietro on this week! 🇧🇷 
Hosting this week is Alex Murley and Jake Hughes where they chat with Pietro about his Haas F1 super sub at the end of 2020, and becoming the fastest Indy 500 rookie! 
As always, massive thanks for the support everyone, we are loving seeing and hearing from you all! Fast approaching 1k subs, let's see how quick we can get there! 
OUT NOW on YouTube and all your favourite podcast apps 🎙
Search Results placeholder
PorscheSport
Porschesport Podcast
An exclusive look at this weeks Porsche Motorsport. News, Interviews and race results. Hosted by Peter Mackay and Hayley Edmonds
Porsche Penske Motorsport with the new 963
The Porsche Penske Motorsport team sends the new Porsche 963 to hunt for overall victories in the world's greatest endurance races. Beginning in 2023, two of the hybrid LMDh-spec prototypes will be fielded in both the FIA World Endurance Championship and the IMSA WeatherTech SportsCar Championship. The racing vehicle that was unveiled today (Friday, June 24) at Goodwood in England will carry the traditional Porsche motor racing colors: white, red and black. In the cockpits of the 500 kW (680 HP) racers, experienced and championship winning prototype drivers are paired with seasoned specialists from the Porsche factory driver squad. Porsche Penske Motorsport will have two headquarters for the two major championship programs: The IMSA WeatherTech SportsCar Championship vehicles will be prepared at Team Penske's primary location in Mooresville, North Carolina, USA. The team's branch in Mannheim (Germany) is responsible for the FIA World Endurance Championship (WEC).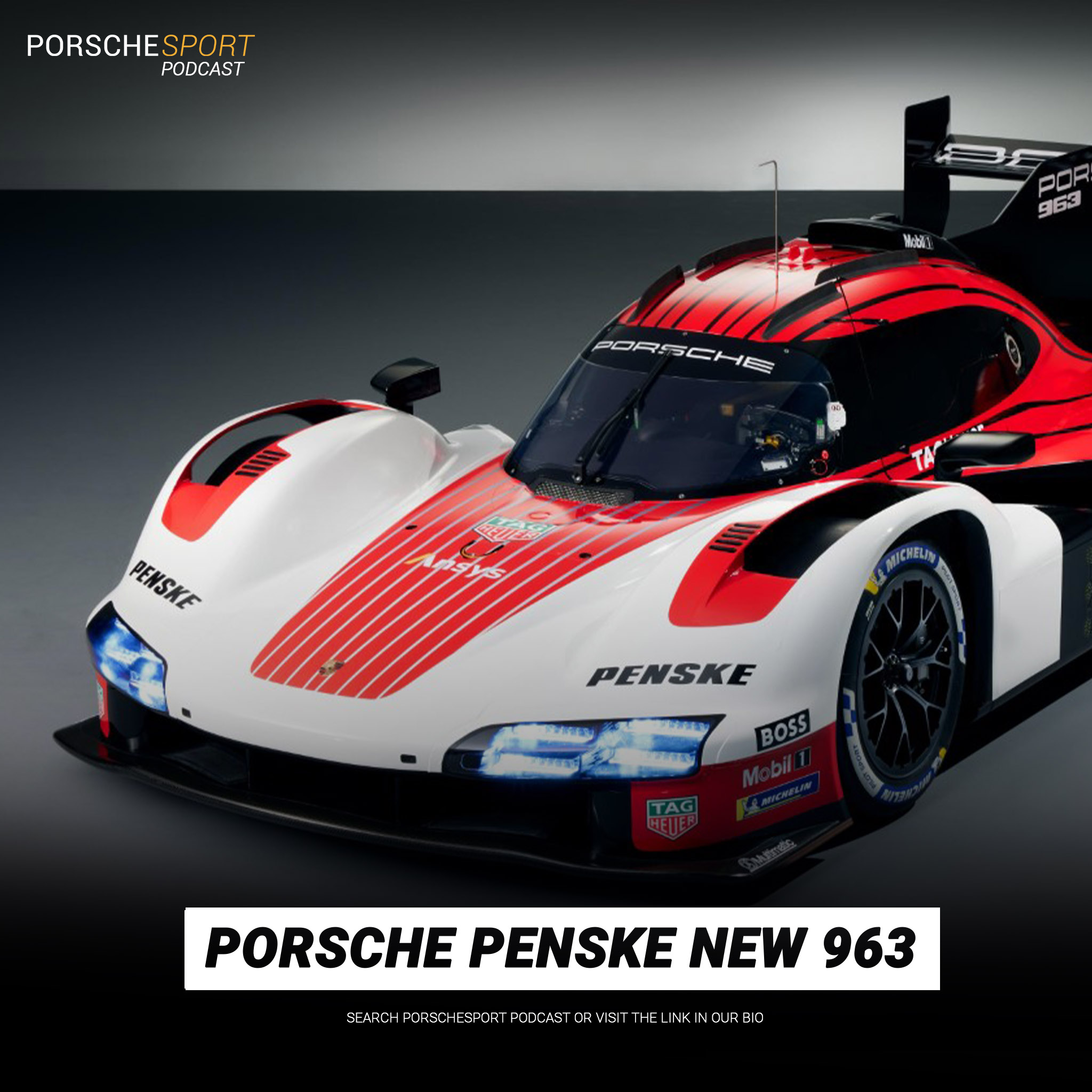 Search Results placeholder