Jenson Team Rocket RJN McLaren took a debut race win in the opening round of the Intelligent Money British GT championship at Oulton Park.
The team were a late addition to the championship after cancelling their original plans to race in the GT World Challenge Europe series, but the late switch has yielded success.
In his first ever GT race, The World Fastest Gamer winner James Baldwin, who started fourth on the grid after having his pole position time deleted after track limits infringement, had a trouble-free stint and handed over to Michael O'Brien who made up two places and took full advantage when race leader Jack Mitchell/Jordan Witt 2 Seas Motorsport McLaren was hit by a stop go penalty.
Despite a late race safety car O'Brien held on to take a dream win for the Silver Cup pairing.
The fast, flowing but narrow Oulton Park track has limited over taking opportunities so pit stops were crucial to gain position.
Polesitter Lewis Procter in the Optimum Motorsport McLaren lead into the first corner as the four McLarens got away in grid order.
Despite the closeness between the top two in qualifying Proctor was able to build a comfortable 3 second gap over second placed Witt, until they encountered the GT4 traffic, which reduced the gap to nothing.
The battle for the lead was very brief as Procter pulled off as soon as the pits had opened to allow Ollie Wilkinson to take over.
Witt spent two laps of green flag running and before pulling into the pits and exiting just in front of Wilkinson.
After spending the entire stint on 2 Seas McLaren's Angus Fender's fender, good pitwork by Jenson Team Rocket RJN team allowed O'Brien to jump the 2 Seas entry and grab third place in the pitstops and soon overtook Wilkinson for second.
This put the #2 McLaren is the prime position to take advantage when race leader Mitchell was hit with a 10 second stop & go penalty for a pit stop infringement.
This dropped him down to tenth and to add extra salt to the wounds the team received another penalty but this time for 18 seconds stop & go for speeding in the pitlane when taking his first penalty.
O'Brien successfully managed the gap and despite a late safety car when the #61 Academy Motor Ford Mustang spun off, the McLaren took the checkered flag two seconds clear.
Wilkinson managed to hold onto second place ahead of Dean MacDonald who managed to deliver 2 Seas Motorsport a podium finish of their debut race.
Fourth place went to Rob Collard and Sandy Mitchell in the Barwell Lamborghini as silver Cup entries took the first five places
Yelmer Buurman and Ian Loggie in the RAM Racing Mercedes was the first Pro/Am entry home in sixth but could not make an impression of all of the silver entries up ahead.
In GT4 it was a dominate victory for Connor O'Brien and Patrick Kibble in the #95 TF Sport Aston Martin.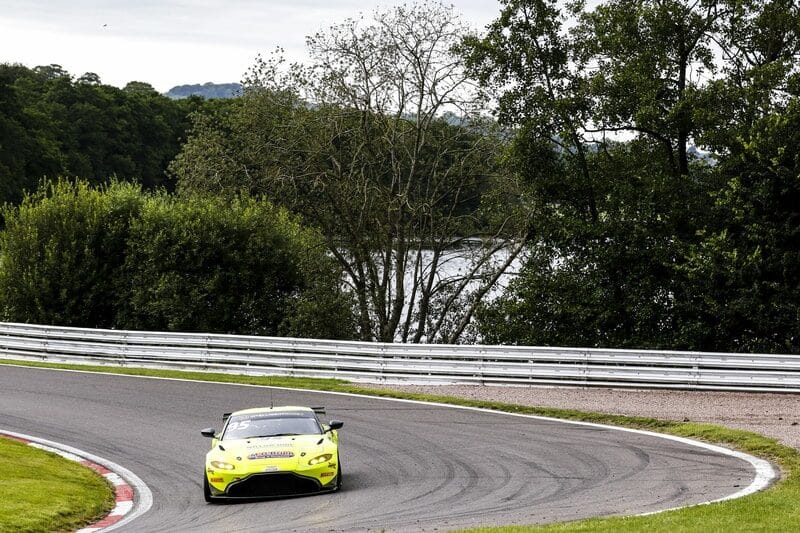 O'Brien, who had taken pole by 0.4 seconds in qualifying, took full advantage of John Searle's slow starting GT3 Lamborghini to build a big gap on the first lap, speeding away from Sam Smelt/James Kell Speedworks Toyota Supra, holding a five second gap at the pitstops.
The positions remained the same after the pitstops, but unfortunately Speedworks was denied a debut podium after a stop & go penalty for being 0.3 seconds which dropped them to fifth.
This allowed Jordan Collard/Patrik Matthiesen in the HHC McLaren up into second with the second TF Sport Aston Martin of Jamie Caroline and Daniel Vaughan coming home third.