It's incredible to think that the two thousand twenty-three season is almost over, but thankfully, I've got lots to play for with three championship titles up for grabs.
Next up on my calendar is the final Porsche Carrera Cup GB event of the season at Brands Hatch early next month (8 October) where nothing less than two wins and two fastest laps are essential in terms of the title race.
Since my last column, there have been three Porsche events. Knockhill, near Dunfermline, obviously is my 'home' race of the year – a rare opportunity for me to compete in Scotland at a track where my car racing took off at the beginning of my career.
And so it was great to finally record another win at Knockhill in the opening race. I first raced at Knockhill in 2012, racing Minis, and became the Knockhill Young Saloon Car Driver of the Year having won a couple of races there – my last victories at Knockhill until my Porsche victory in mid-August.
I felt proud to be flying the flag for Scotland with 'home' sponsors like The Glenturret, Tunnock's, AL-2 Teknik UK, PyroDry, and Carronbridge Sawmill, and it was especially nice to have success at Knockhill as we had guests present from each of those companies.
Unfortunately, I made the wrong tire call for Race 2, guessing the rain would intensify, not stop and dry up – I guess being a Scotsman I should have known better! But a good, enjoyable weekend nonetheless rounded up with fifth in class.
It was then onto Donington Park which was disappointing. Having made a good start, making up a place in Race One, I was hit up the rear halfway around the opening lap which ended my race on the spot. It was very frustrating, the car felt great, and I felt confident. I was four lengths in front of a car behind but that car was hit by another pushing the car behind into me. Disaster. It actually meant my first non-finish in what was the eleventh race of the season.
The Team Redline Racing mechanics did well to repair the damage allowing me to line up twenty-second on the 22-car grid later in the day. Somehow, I made up 11 places and was third in class with three laps remaining despite the opening two laps being neutralized behind the Safety Car. But fluid on the track at the final corner caused me to 'lock up' and run wide, which cost two places. At the chequered flag, I missed out on a Pro-Am podium by 0.353 seconds, finishing fourth and having also set the class fastest lap. It would have been really nice to snatch a podium but all things considered, it wasn't a bad recovery.
I held Pro-Am "pole-position" for a time during qualifying at the next event at Silverstone but ultimately had to be content with a third position class start for the opening race, demoted from a front-row place in the closing minutes but was pretty happy with the way qualifying went and felt that I had a good car set-up for the two races.
I gambled on Silverstone's 1.64-mile "National" circuit remaining wet for the opening race and initially everything was good, gaining four overall places and into fifth on the opening lap, then dicing for the class lead at one-third distance. But the track quickly dried and as my wet-treaded tires lost their grip, and the 'slick' tyred runners gaining pace, I slipped down to an eventual fifth in class after 30 laps. It was painful to endure and in hindsight, 'slicks' were obviously the correct choice. After the opening laps as the track dried, I had absolutely no grip.
Starting the second race from thirteenth in dry conditions, I immediately managed to make up places after the green light, running third in class. Unfortunately, I missed out on fastest class lap by 0.025 seconds but was classified seventh overall and my fifth Pro-Am class win of the year. I drove a good, clean race. It was good to get another victory at Silverstone especially as I had a large group of sponsor guests attending.
I lie second in the Pro-Am championship, trailing the leader by 18 points with a maximum of 24 points up for grabs at the final event. Being realistic, I need a massive slice of luck to snatch the title at Brands but I'll not give up fighting until the very last lap!
Not only have I been enjoying a successful Porsche Carrera Cup GB season, but my GT Cup Championship campaign has been going really well too!
At the end of July, I bagged another two wins at Silverstone along with car owner Paul Bailey. I think I was about sixteenth with twenty minutes remaining but set some good lap times in the Lamborghini Hurrican, to take seventh overall and the class win having also set the fastest GTO category race lap.
Race Two was staged on a very wet track, the fifty-minute race starting behind the Safety Car for the first ten minutes due to the atrocious conditions. I took over the Lambo with twenty minutes or so to run and fought his way up to eighth overall, recording their fourth GTO race victory from eight starts this year.
In mid-September, I celebrated his birthday, and the wedding anniversary of his parents in style, with a further two GT Cup GTO class wins to extend his lead in the overall and category standings.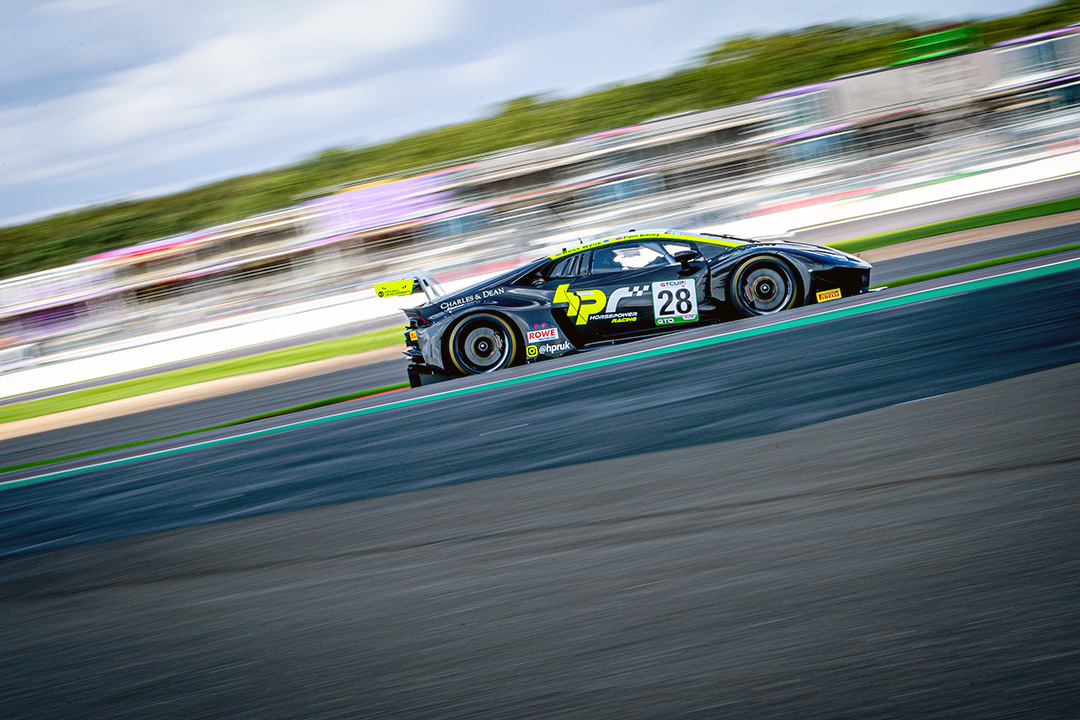 I turned 32 years old the day before the event began (15 Sep), the same day my parents, Veronica and Brian, celebrated their 33rd wedding anniversary, who were present to join in with celebrations at Donington Park.
In Race One, it was cool racing as the sun started to go down then in Race Two, the conditions were a complete contrast with a wet track.
It was a case of hard charging in both but Paul and he were rewarded with their sixth class win of the season. It was good to mix it up against fierce competition and he thoroughly enjoyed it!
In terms of the championship, Paul and I lead the series outright and have a very healthy lead in the GTO category. With one event remaining, fingers crossed they can hold on to their advantages!
Join the Porsche Motorsport Community on: Twitter | Twitter Community | Instagram | Reddit | Discord